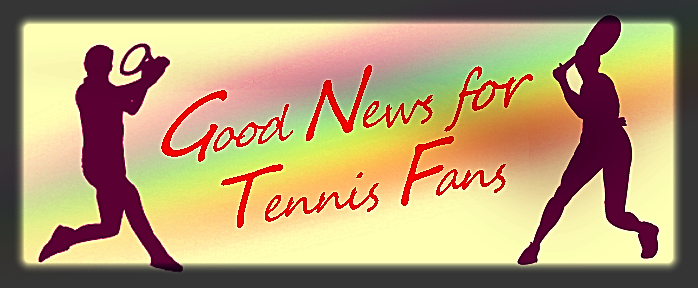 May 2, 2018
Sharing Tennis News Since 2012
NOMATA Fun Day
On Sunday, June 17th, NOMATA will sponsor our second annual Fun Day for all league players in the metropolitan area.
The Fun Day will be held at the City Park Tennis Center from 1 PM to 5 PM  in the afternoon and will be cost free.
It is our way of saying thank you for all the support that you give us every year.  Please come out, meet old friends and make new ones.  Enjoy the fellowship, fun, tennis, music and other festivities.  If you have a friend that may be interested in becoming a league player, invite them to join in the fun with us.  What a great way to celebrate Father's Day.
Gatorade and snacks will be provided all day.  Tennis balls will be provided on each of the 12 courts available, and the center court will be setup for games run by Vinay, and prizes can be won by the participants.
There is no need to signup, just come when you would like.  All play will be doubles, but there is no need to come with a partner.  Play will be loosely divided by skill level, with more attention paid to fun level.  So come prepared to have a Fun Day, and you absolutely will.
Conact Pedro for more information
Pedro Docampo
1804 N. Cumberland St.
Metairie, LA 70003
504-460-5427
Joyce Brener Goldstein passed away peacefully at her residence on Friday evening, April 27, 2018. She was 91 years old. Beloved wife of
Irving Goldstein for 73 years. Joyce was a native and lifelong resident of New Orleans. She had a passion and talent for dance, and in 1950, she was featured on the first televised exercise program in New Orleans – 10 A Day With Brener Day on WDSU.
She and her husband Irving opened Dance-Ranch, a dance apparel and Western-wear store. In addition to the business, she continued to teach in her own studio for 18 years and to host recitals in the Civic Theater. In 1984, Brandeis University National Women's Committee saluted Joyce's contributions as a study group leader.
Joyce was an aspiring author, a life member of Hadassah, and a loyal supporter of Israel. She was a faithful congregant of Temple Sinai, and considered her most important job in life to being a mother and grandmother.
An online guestbook is available at www.tharpsontheimerfh.com.
Published in The Times-Picayune from Apr. 29 to May 2, 2018
April 11, 2011 Interview
by Billy Crawford  
Note: After Callie and I moved to New Orleans a good friend George Duerson introduced me to members of the City Park Tennis Club.  We first played on the courts where now the Putt-Putt golf course and Great Lawn are located. I enjoyed getting to know the players and decided it would be fun to interview them. The first player I asked was Irving–the oldest player.
 I understand you may be the "youngest" member of the club; how young are you?
 How long have you been a member of the CPTC?
 18 years

 What is your impression of the new City Park/Pepsi Tennis Center?
 As beautiful as Miami Beach
 Do you have a regular group you play doubles with?
 Yes, we play at 8:00 am.  Monday with Al Reagle, Roy Bush, Ed Richeson
Tuesday with Al, Roy, and Bruce Braham
Friday with Al, Roy and Allen Brock
Sunday with David Varisco, Anthony Viloria, and Guiseppe Defino

 How long have you been a tennis player?
 When I was 16 years old, Freddie, Blinkey, Warren and I would ride our bikes from Gretna to Algiers near the river to play on a tennis court made of tar.
 What is your wife's name?
Your place of worship?
 What professions have you had?
 I started working at an early age in my Father's General Department Store.  After graduating from Fortier High School in 1938 and Loyola University in1942, I became the band director at Behrman High School in Algiers Point on the West Bank.  I could really toot a trumpet! Later, with World War II raging, I enlisted in the Air Force. After a year in the 99th Air Force Band, I decided to be a hero and become a fighter pilot to receive an officer's commission.  With less than one month of flight school left, the government gave me the option of completing the training and going to Korea to fight the North Koreans for at least a year, or to receive an Honorable Discharge. I chose to come home and if I had not, it's possible I may not have been alive today to give you this interview.  After my military service was completed I opened a retail store, which I called Dance-Ranch. I retired in 1987.
NOTE: While in my basic fighter training class in Florida, a West Point cadet was also in the class who was the son of Jimmy Doolittle, the pilot that delivered the atom bombs to end World War II! He seemed to be a very cocky individual always smoking a pipe like MacArthur!
 You are so healthy and fit, what is your secret?
 No fried foods, very little red meat, and an occasional "Harvey Wallbanger."
How would you describe your feelings as a member of this club?
 Extreme pleasure with great friends, all of which I attribute to my well-being, both physically and mentally.
A's & Aces' Spring Season Camps
2018's first school break camps happened during the spring season and are designed to prepare players for USTA competition. About 20 student-athletes attended and worked on their serves, agility and match play. Additionally, time spent off the court was utilized learning the game of chess. Chess offers practice in critical thinking, strategy, and mental toughness – skills highly translatable to tennis.
Tennis Tournament Brother Martin High School
2018 Tennis Tournament Friday, May 11th City Park/Pepsi Tennis Center
Women: Check in 8:15 a.m. Matches begin at 8:30 a.m.
Men: Check in 9:30 a.m. Matches begin at 9:45 a.m.Entry Fee:
$80 per team
Fee Includes: Continental Breakfast * Lunch * Snacks Ditty Bag * Specialty Drinks, Beer & Soft Drinks
Parade of Prizes
DJ for your entertainment
Registration deadline is May 4, 2018.
Check it out