July 5, 2017
Recipient of the 2013 & 2015 LTA Marc Kaplan Media
Excellence Award
The Donoff Cup is a team sectional competition held annually and brings together the top senior adult players from four USTA sections. Southern will go for its fifth straight Donoff Cup championship in 2018 when the cup is hosted by Middle States.
USTA Southern captured its 4th straight Keith Donoff Men's Challenge Cup Championship this past weekend in Arlington, TX. Team Southern captured the championship 48 points  to 44 over the home team from  USTA Texas. The key to the victory was a 12-8 win over Texas on Day 2 with the 55s Southern team winning all 5 of its matches over a very strong Texas lineup. Several matches with Texas went three sets and Southern captured five of those three setters.
The 2017 Southern team members shown in the attached photo are:
Bottom row, left to right: Miles Walker (GA), Steve Duffel (AR), Ralph Grieco (GA), Ken Koelling (MS), Russell Buchi (TN), Al Cannon (SC), Drew Meyers (Captain) (LA).
Top row, left to right: Maxime Buyckx (GA), Jim Hinson (SC), Padg Bolton (LA), Jon Buise (LA), Larry Back (AR), John Bailey (AR), David Reding (AR), Marty Pearson (MS), Cleburne Simon (LA), Andy Steingold (SC), Chris Bussert (GA), Gert Van den Heever (GA), Art Abbott (NC).
| | |
| --- | --- |
| | |
| | Kline Sack & Rick Leach |
 2017 USTA National 45 Hardcourts Doubles Champions.
Kline wins 11th Gold Ball
The tournament was held in Westlake Village, California at the Westlake Tennis and Swim Club from May 29-June 4, 2017. Kline's partner was former ATP World #1 Rick Leach who won
multiple grand slams including Wimbledon, US Open, and the Australian Open in doubles.
In the final, the team beat former top 100 ATP player Mark Kaplan and Neel Grover 6-2, 6-7 (5), 6-4 in a real thriller of a match.
New Orleans Youth Tennis (NOYT)
 Today we celebrated our 10th birthday.
 Still going strong. Giving the gift of tennis.
 Gianna St Julien and Gabrielle Terranova began lessons with us in 2007. Last year each was named to all-metro tennis team.
  Today they are coaching with us !!
Thank you Dr. Max Begue! 
Please contact Julie if you are interested in helping at the Junior Tennis Festival at
| | |
| --- | --- |
| | |
| Aly | |
Aly Goldberg, BA

Administrative and Development Manager

Lead Academic InstructorMs. Goldberg earned a Bachelor of Arts Degree, Cum Laude, from Tulane University.

She has worked with A's & Aces as an AmeriCorps member and classroom instructor for two summers, and has broad volunteer experience in the non-profit community, bringing skills in health and wellness sector, administrative work, and management to our organization.  Ms. Goldberg has a passion for working with children and helping sports-based youth development organizations.
A's & Aces Camps Promote Excellence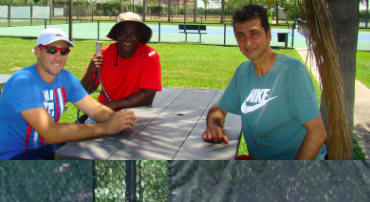 L-R: Johnny Parkes, USTA Player Development Coach, A.J Varnado, A's & Aces Head Coach, and Alaaddin Karagoz, Turkish FED Cup Captain.
 L-R: Jordan Mitchell, A's & Aces player, and Coach Johnny Parkes
A's & Aces is a local non-profit with a mission to provide quality tennis and academic assistance to New Orleans Public School children as well as others lacking opportunities. A's & Aces is among 500+ USTA member National Junior Tennis & Learning (NJTL) organizations, has been recognized as a state, sectional, and national chapter of the year, and is one of 12 USTA Excellence Teams across the nation. In partnership with NORDC, the organization provides three 7-week literacy and tennis camps at Dillard University, Atkinson-Stern Tennis Center, and Joe Brown Park.  In addition, A's & Aces hosts a Tournament Training Camp at the University of New Orleans throughout June and July.  In total, over 140 campers ages 7-13 are learning on the courts and in the classrooms.
Apart from improving their tennis skills, campers maintain their school skills over the summer through classroom activities. One such activity has the campers draft, edit, refine, and submit compositions to the USTA NJTL Essay Contest. In each of the last several years, a camper has won a trip to New York or Winston-Salem to attend an ATP professional tennis tournament.
Every NORDC camper participates in local field trips, swimming, and special activities. Many will also participate in three A's & Aces-hosted, USTA sanctioned one-day Youth Progression Pathway tournaments. The tournaments, which are open to the public, have 8s, 10s, and 12s divisions that compete at Joe Brown Park. These tournaments are for beginner to intermediate USTA members eager to gain experience. Those interested in competing in the July tournaments should register on the TennisLink.
Six Tournament Training players will represent A's & Aces at the USTA National Excellence Teams 10 & under competition in College Park, MD, and three older campers will travel to Atlanta for the Southern Tennis Association NJTL Leadership Camp.
The Camp at UNO welcomed USTA Player Development Coach, Johnny Parkes, last week. Coach Parkes worked individually with several of the campers and with staff coaches and volunteers, including A's & Aces' Head Coach A.J. Varnado, Caitlin Casey, Grandville Kaynor, Naz Karagoz (Tulane's #1 player), Alaaddin Karagoz (Naz's father who is the Turkish FED Cup Captain), Alex Petty, as well as Alan Green, Xavier University Head Coach.
 We are happy to announce the dates for the fourth annual New Orleans Tennis Fest on
August 3-6, 2017 at the University Tennis Center in New Orleans
Our tournament homepage in Tennislink is:
If you are interested in being a sponsor for this year's tournament, please contact me directly for more information including our tournament/sponsor brochure; events of this nature are expensive to produce, especially when you add in that we are a small, volunteer non-profit
Trey Luby
                            July 4 Tennis Club Party
Audubon Club & City Part Tennis Club
Host: Lee and Cynthia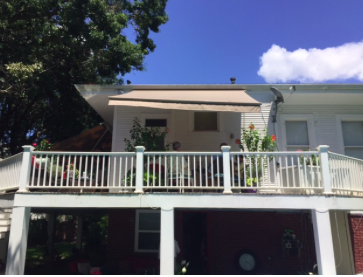 Dave says, "Please recycle your tennis balls and cans